Safe and Secure Environment, with Local Management
Kingsgate Village is an innovative and exciting new concept in community living, offering you a comfortable and independent future. The village provides you with an affordable alternative, ensuring a quality lifestyle within a secure, managed and gated community. We are a privately owned independent lifestyle village developed and operated by two families. We are not part of any investor group, public company or consortium. Have the confidence, that when you purchase at Kingsgate Village you will be able to engage directly with the people who manage it for you.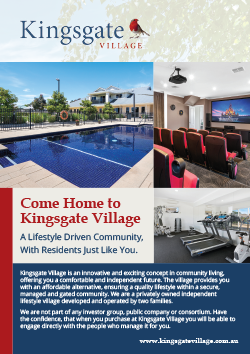 Time Flies When You're Having Fun!
Extensive and First Class Facilities & Amenities
We value that our residents have worked hard to reach this point in their lives, so it's time to take advantage of what we have to offer. Kingsgate Village has a wide range of facilities for everyone to enjoy. You'll be spoilt for choice – whether you prefer outdoor or indoor activities or both.
Book your
Private Tour
Our tours are compliant with the new Covid-19 social distancing regulations.
Read more...
Book a tour
It's time for a change!
Latest Homes For Sale
Want Something Brand New?
Choose From Four Luxurious Layouts
Designed for easy, affordable and modern living, we have four different facades and floor plans to choose between. Each colour combination was planned and designed with architects and interior design teams, to ensure maximum attention to detail. Each design is spacious, practical, and comfortable to live in.
40 Royal Parade
Kilmore, 3764
Kingsgate Village office will close on Wednesday 14th December 2022 and reopen on Wednesday 11th Jan 2023.
For sales enquiries during this time call Ray on 0418365900,have a safe and Merry Xmas.
Opening times / Inspection times
Monday – Friday: 10.00am-1.00pm
Saturday by appointment only
Sunday Closed